On March 18, Zhongyue Jiamei and Zhongnanshan Medical Foundation joined hands to help alleviate the shortage of protective and relief supplies and contribute to the frontline of anti-epidemic medicine.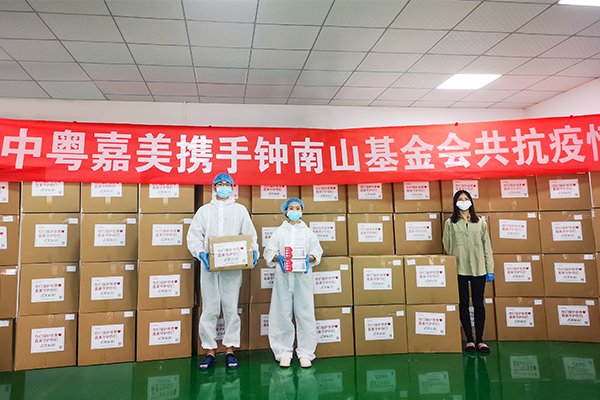 What the society needs, the enterprise will give full support to it. Compared with the severity of the anti-epidemic, the strength of the caring enterprises from all directions is more powerful. On March 18th, Sino-Guangdong Jiamei passed the Zhongnanshan Medical Foundation of Guangdong Province, and the second batch of materials "Disposable Medical Masks" was loaded and set off. A box of supplies with the slogan "You protect the world, Kamei guards you" is to cheer and comfort the first-line medical staff, and it is also an urgent task for enterprises.
Since the outbreak of the epidemic, all members of China-Guangdong Jiamei adhere to the core business philosophy of "social value takes precedence over corporate value" and put social responsibility first. Masks are materials that are urgently needed by front-line medical staff. In order to increase output faster, the division of labor on the production line is clear, and each production colleague can be "qualified for employment" after receiving training.
Since the outbreak of the epidemic, it has continued to supply masks, protective clothing and other materials to the frontline and the society, and has become the main force in the supply of frontline anti-epidemic medical supplies.
The most memorable imprints brought to the frontline staff by these epidemics all touched our hearts. Zhongyue Jiamei just wants to do more for them and protect every fearless "he / she" with practical actions.
"One branch and one leaf always cares about each other and sees the original intention bit by bit." Behind each material, sweat is condensed, but we do not feel bitter and tired in this process. It is this share of love that has brought together the majestic force of all people, forming a strong warmth in the cold wave, letting the people who stick to the front line of epidemic prevention and control feel the true feelings and care, and also make the patients firmly overcome the disease. Confidence and strength.
Please note: Zhongyue Jiamei reminds consumers to pay attention to identifying the authenticity when purchasing "disposable Medical masks" and beware of being deceived. Consumers are welcome to supervise the report, report the phone: 12315